Our Team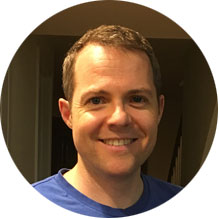 Mike Applebee, PT
I graduated with a Bachelor of Science in Physiotherapy from the University of the Witwatersrand in Johannesburg, South Africa in 1996. I met the love of my life during that time and after graduation began the process to follow her back to the USA and ultimately arrived in Colorado Springs in 1999 where I have lived and practiced since.
Clinically I have always been driven to learn as much as possible to help those who entrust their recovery and wellbeing to my hands. This has led to training in a variety of areas including craniosacral therapy, neural mobilization, visceral mobilization, vestibular rehabilitation, fascial mobilization, joint mobilization, and core release and reintegration, all of which have allowed me to continue my journey towards the most holistic treatment model possible. I love to learn and continue to adapt and integrate new ideas and consolidate on existing ones. I enjoy working with all ages of people with all manner of dysfunctions.
Outside of work, I enjoy welding and gardening as well as spending time with my family, who are all talented musicians and provide me great joy in being immersed in their musicality. I grew up playing soccer in South Africa and love to watch the game at every opportunity.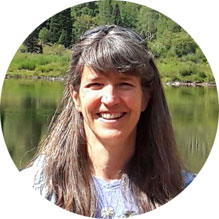 Brenda Feller, MSPT
Brenda's passion for Physical Therapy started as early as Junior High when she decided to become a Physical Therapist and has not diminished in over 30 years of being a PT. She received her Master's Degree in Physical Therapy from the University of Indianapolis in 1989. Brenda finds great pleasure and satisfaction as a Physical Therapist because of her love for people, health, and healing.
With an emphasis in outpatient manual therapy, Brenda has worked in numerous settings along the Front Range and across the country. She has treated all ages of patients from infants to centenarians. Her passion for getting to the source of the problem has motivated her to take numerous classes yearly and be part of study groups monthly! This experience and training beyond typical PTs helps unravel orthopedic issues as well as, deep myofascial, nervous system and organ involvement. Soft tissue and joint mobilization, muscle energy, visceral manipulation, cranial sacral therapy, neural manipulation, therapeutic touch and essential oils are just a few of the wonderful tools at Brenda's disposal!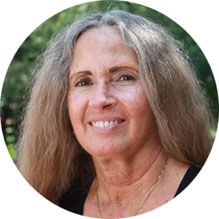 Barb Baker
Barb was born and raised in Kansas. She and her husband moved to Colorado Springs in 1996 where they live with their dog, Calle.
While her background is in insurance and the legal field, Barb changed her career path in 2010 when she was hired by a physical therapy group to perform transcription services and shortly thereafter took over the billing services also. She has been working in this capacity for the past seven years.
Hobbies include gardening and flowers, antiques, music, walking, watching NFL football – particularly the Kansas City Chiefs and Green Bay Packers as well as having a passion for horses.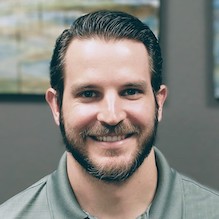 Brent Sallee, PT, DPT
As a dedicated athlete from junior high into his college years, Brent's pursuit of physical strength, fitness, and conditioning led him to experience an array of orthopedic injuries - from minor to debilitating. Because of this, he sought out greater understanding of the human body, guided fitness, and generalized wellness. Deciding between medical and physical therapy school, Brent was drawn to his passion of helping individuals maximize their abilities, perform at their best, and succeed to their desired level. Through schooling at Chapman University's DPT program and clinical experience, he has acquired a deep passion for assisting patients in returning to an active, engaging lifestyle – whatever that may be for each individual. In his free time, he finds joy in spending time outdoors with his family, cooking, mountain biking, and training/competing in grappling and Brazilian jiujitsu.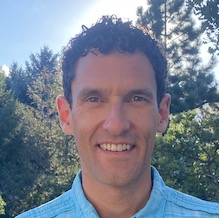 Chris Kaster, MSPT, DPT, CFMT
Chris grew up in upstate New York, graduating high school in 2000. He graduated Misericordia University in Pennsylvania in 2005 with a Master's degree in Physical Therapy and a Bachelor's in Health Sciences. After completing a year of clinical experience he obtained his Doctorate of Physical Therapy, from the same institution, while working full time. After college, Chris moved to New York City where he quickly recognized that while traditional physical therapy works well for some conditions, a large percentage of patients require specialized manual therapy to achieve their full level of function. He then began the process to become a Certified Functional Manual Therapist through the Institute of Physical Art. He completed this certification, with honors, in 2013. Since then Chris has furthered his learning by receiving advanced training in Cranial mobilization, Visceral Mobilization and brain injury/concussion management. His main focus has become manual physical therapy combined with a customized home exercise program. He treats all areas of the body including the head, neck, jaw, upper back, shoulder, low back, hips, knees, feet, hands, and viscera (organs and their surrounding fascia/connective tissue). He has worked extensively with car accidents/trauma patients, military and sports injuries, the running population as well as with dizziness/head injuries and concussion patients. Outside the clinic Chris enjoys hiking, running, mountain biking, snowboarding and exploring Colorado with his family.
Office Hours
| | | |
| --- | --- | --- |
| Monday | | 8am - 4pm |
| Tuesday | | 8am - 6pm |
| Wednesday | | 8am - 3:30pm |
| Thursday | | 8am - 6pm |
| Friday - Sunday | | Closed |
Testimonials
Brent Sallee, PT, has been very helpful in my treatment for balance issues. His knowledge and expertise has guided me to improve in a lot of ways. I feel more secure walking, turning and doing daily tasks. He has helped to improve my overall comfort level. I would highly recommend him and his abilities to all who are seeking solutions.

- DK
So far, it has been a good experience. Brent is very good at sharing his knowledge, and explaining the how and whys of what he does and what the purpose is for the exercises and stretches he is having me do. I feel confident that I will get some relief from the pain I am experiencing.

- RSP
Brent was able through manipulation, suggested exercise and insoles from a chronic issue to my feet and a recent hip injury from a fall, to a much improved state. Previously the foot issue had plagued me for years including a recommendation from podiatry plasma injection, which I refused.
Now I have hope but as Brent has told me, my follow-through of exercise and insoles is a choice I have to make for the long lasting wellness. Arthritis flare-ups will continue to require physical therapy from Brent. He is very knowledgeable, kind and thorough.
Barb has been so good to work on scheduling and reminder calls.
So glad Dr. Sayer recommended this PT clinic.

- Pat R
Thoroughly enjoy working with Brent! He listens closely when I express what I am going through. He explains the exercises and program we are going through so that I can understand the goals to success. I have made such progress on quite a few issues. Brent is a joy to work with and a highly-skilled professional.

- Kathy G
How do you thank someone that has given you Hope back! Twice! Brent Sallee is an Excellent PT, DPT. He is Knowledgeable, Kind and Caring. He has worked with me through two different surgeries, both with difficult recovery issues. The one-on-one therapy that Brent provides has been personalized and focused. No "cookie cutter" treatment at Complete Physiotherapy! Great explanation of treatment and pinpointing problem areas. Always relaxed and quiet with clean and large private rooms.
Also a big thank you to Barb, who is always there to greet you with a big smile, and miraculously keeps scheduling of appointments well organized.

- Pamela C
I highly recommend Brenda! Brenda has given us outstanding help. All three of us have gotten so much relief. Cannot wait to see the end results!

- Lisa F
Mike is a truly AMAZING physical therapist. Not only is he extremely skilled in reading the alignment issues of the body, but his care and compassion for his patients shines through in every interaction. It is rare to find a physical therapist with both talent and concern. I came to Mike with foraminal stenosis in my cervical spine, irritation in my spinal cord, a loss of mobility in the neck, and pain and numbness radiating from my neck into my arm. Another physical therapist told me I would be unlikely to recover any mobility in my neck even after our six sessions together. With extremely gentle craniosacral therapy, Mike has been able to restore my original mobility, stop the spinal cord irritation, and diminish my pain. There are only two physical therapists I will trust with my spine, and Mike is one of them. I cannot recommend him highly enough.

- Sarah H
Complete Physiotherapy (Mike Applebee) was a top referral from my doctor who knows a lot of physical therapists in Colorado Springs. And she was right - Mike is absolutely the best physical therapist I have ever seen. He has worked on several things, but primarily plantar fasciitis and improving lymphatic drainage in a damaged leg. His training in South Africa seems like a different approach than what I had previously - more gentle and more of a holistic approach. He is absolutely professional and caring. Would give him top ratings.

- KS
Several years ago, I was hospitalized for chronic and severe back/sciatic pain. I was on a morphine pump as well as other controlled meds and facing possible surgery. The neurosurgeon advised that I could potentially delay surgery through core strengthening and physical therapy. It was my good fortune to get a referral to Mike Applebee. When he first started working with me, I could barely reach past my knees when bending forward. Through his expert therapy and fitness program tailored to my problem, I can not touch the floor. Most important, I have not only avoided surgery, but I no longer use controlled pain medications. Mike changed my life.

- Bill F
My rheumatologist recommended Mike to me several years ago and I have seen him intermittently ever since. He has helped me recover from various orthopedic surgeries and most of all, his almost magical sense of what is needed has greatly relieved my arthritic pain, helped make me stronger and made it possible for me to live a normal life. With the help of Barbara, who is so caring and organized, it is a pleasure to visit the office and I know that even if I have pain when I go in, I will come out feeling amazing.

- Carol F
Mike is amazing! He has an ability to find the source of the discomfort and soothe it away. Everyone in the office is so kind and friendly; and go above and beyond to keep everyone safe and cared for.

- Danyda F
Mike, Brenda and Barb have been taking care of me and all of my structural issues for a number of years. Mike and Brenda both have uncanny gifts of treating my injuries, RA joint issues, surgery recovery and the many other physical problems I own. Their unique hands-on techniques are personalized and incredibly effective. Mike has treated and helped all of my family members, as well, and we all consider him a friend, confidant and source of wisdom for keeping us healthy. Barb manages the practice and patients with genuine care and compassion, and takes care of making sure to be scheduled when needed. In the many years of traveling and living in different cities, I have never found physical therapists who have been able to take care of me as well as Complete Physiotherapy. I strongly recommend this practice.

- DeeAnn R
Mike Applebee displays the finest qualities of a physiotherapist. His demeanor is professional and pleasant with a good sense of humor that is greatly appreciated. He ascertains where action needs to be taken regarding injuries and pain so easily that it seems almost magical.
I have had chronic pain to the point where a good sleep was not attainable. I had forgotten what that was like until I started therapy at Complete Physiotherapy.
I consider Mike to be of the highest caliber in his field and recommended him to my friends.

- Janice H
I have been a patient at Complete Physiotherapy for several years. Mike Applebee is always kind and professional. I am extremely happy with the results of each treatment.
The office is efficient and friendly. I highly recommend Complete Physiotherapy!

- SR
We have utilized Complete Physiotherapy on a regular basis for 12 years and have greatly benefited as patients of Mike Applebee. Mike addresses each session to our varying conditions and is adroit at customizing his approach to our specific pains/issues of whatever bodily area. We have always found him to be very professional, personable, extremely knowledgeable and talented. We highly recommend him to anyone requiring the services of a physical therapist.

- Phil and Carol E
After struggling to recover from a traumatic brain injury for well over a year (in addition to other injuries from the combination of a life-altering car accident and pushing my body to its limit throughout the year), Mike Applebee came highly recommended to me by my primary care doctor. From my initial visit, it was unmistakably clear Mike is exceptionally gifted, both as an individual and in his practice, which is compounded by his wealth of knowledge, enthusiasm and passion. Additionally, he is one of the most personable, kind-hearted and humble individuals I have had the privilege of meeting, making you feel instantly like family while celebrating your successes and encouraging you to take ownership and pride over your own healing. My one regret is not having met Mike sooner, especially after experiencing remarkable healing and progress after my initial visit. Over two years later, Mike continues to work his magic. Although I know I would fare reasonably well on my own, with Mike on my team, there is no doubt I will continue to heal and recover more fully and optimally than I would on my own. It is my pleasure and an honor to recommend making Mike Applebee a part of your wellness team so you, too, can experience healing from within that will allow you to live your life more optimally, confidently and happily. With Mike on your side, life can only get better!

- Karinna K
The care Brenda gives has been a lifesaver to me over the last few years. She has a gift to help in healing and her positive energy. I am grateful for her services and would refer her in confidence!

- Sherri L
Mike is professional, personable and knowledgeable. His techniques are not the usual bend, pull, tug and stretch. He works keep to get to the core of the issue and resolves pain. How better to say than he is the best in Colorado Springs period. AND, both of us are real patients of Mike!

- Chip R June R
My experience with Complete Physiotherapy for the past several years has been phenomenal. Mike Applebee is one of the most gentle, knowledgable and understanding physical therapists you will ever meet. He is a true professional who stays current with all the latest information in his field. He listens carefully to you, your symptoms and your feelings. He is able to then apply his knowledge and techniques to the best of his abilities to help you feel your best and live your life to the fullest. I highly, highly recommend Mike Applebee and Complete Physiotherapy!

- John M
Mike is very knowledgeable and his techniques are very effective. I highly recommend him. With Mike, your health is his top priority. If going somewhere else would be more effective, he will tell you. If he does not know what is wrong, he will tell you. He is the Best!!

- Kelly L
After being diagnosed with lumbar spinal stenosis, the doctor recommended drugs and/or surgery, and that physical therapy "might help". A friend referred me to Brenda Feller to try physical therapy first. I had substantial nerve pain in my left leg along with toe numbness. Brenda correctly diagnosed the root problem as poor posture that resulted in weak core muscles and an inability to properly support my spine. Within a few treatments, the pain began to subside and now is essentially gone. Who knew that, at the age of 72, physical therapy along with a few simple exercises could correct many years of poor posture? This solution provides a long-term permanent solution and will allow my spine to heal, giving me many more years to enjoy an active, healthy and mobile lifestyle pain and drug free. I highly recommend her for her caring and intimate knowledge of physiology, technique and understanding of how our bodies work and can heal.

- Dennis W
Mike is by far the most gifted and skilled medical therapist I have worked with.

- Sally D
I have been helped by Mr. Applebee going on ten years as I had multiple surgeries - knees, back and overall bone deterioration. Most professional, encouraging, keeps me moving. Front desk the best.

- HK
I have been coming to Complete Physiotherapy and Mike for many years now. One of the things that has been most appealing and inviting for me with this type of therapy is it has not been as manipulative as more traditional therapies tend to be. For that I am grateful. I have not experienced lingering pain after this type of treatment and do experience better range of motion. Mike is kind and gentle, and listens. Thank you, Mike. Barb is also very pleasant and easy to work with. I am grateful for my time with these two, and highly recommend their services and care to others.

- BAS
I would not be walking, playing singles tennis, walking on the golf course, hiking 13ers if it were not for the treatments Mike provides. Also, when I suffer from grief episodes, he does some brain work and I see the light at the end of that tunnel. I am 76 years old and could not do all these things without his expertise, knowledge and practices.

- Christie L
I HIGHLY endorse and recommend Complete Physiotherapy!

The quality of care provided by the therapists is exceptional and the entire experience is professional and patient centered in every aspect. Manual/hands on therapy resulting in improved patient health is outstanding and caring and compassion is evident in every interaction. Appointments consist of therapy for almost a full hour.

From the moment you enter the office and you are warmly greeted at the reception desk, until after your appointment with your provider, you are the complete focus of the staff. The treatment rooms are clean, new and quiet, and create an atmosphere that speaks "healing". The expertise, knowledge and professionalism of the providers is of the highest level.

By far, Complete Physiotherapy has provided me with the highest quality therapy and most improved health, above all other physical therapy clinics that I have ever experienced.

- Mary Ellen S
Mike is very knowledgeable and competent! He knows exactly how to work on my back and hip problems, and brings great relief after every visit. He is the most caring person who has ever worked on me. He gets a 10 rating from me! I think that Mike has done wonders for Nancy and for me also, with my rib cage from an accident that I had years ago. He is very pleasant and a joy to be around.

- Nancy and Ed T
Mike himself is an amazing human being. He is positive, compassionate and an excellent listener. Mike has extensive knowledge that is only surpassed by his intuitive understanding of healing. The treatments he provides - whether for migraines, back pain or arthritis
- are the best medical intervention I have ever experienced.

- Julia N
Complete Physiotherapy is an outstanding office! It starts with a receptionist that is friendly, helpful and efficient. Barb is on top of appointments and insurance, relaying information to me in a timely manner. The office is clean and organized. My physical therapist, Brenda, is one of a kind! Her education and training excels way beyond basic PT therapy. Brenda expresses skill, intuition, energy, knowledge, expertise and compassion at every visit. I am a medical professional myself, and I would rate my treatment here at a 10+. Brenda has changed my quality of life and equipped me with at home exercises and movements to help keep my limitations and discomfort at a minimum to none. Thank you from the bottom of my heart!

- ES
The therapists and office staff are professional, welcoming, efficient and pleasant. I especially appreciate the ability Mike has to listen, and really hear and understand my explanation of my physical issues.

- Lois C
I was injured from a serious fall compounded by being rear ended. My therapist was very knowledgeable and excellent at treating my medical problem.
Complete Physiotherapy got rid of the pain, numbness and stiffness. I would recommend them without hesitation.

- MJ
Brenda Feller at Complete Physiotherapy has the knowledge and skill to work with my scoliosis problem, and I have seen major improvement in mobility, flexibility and pain management since I have been coming to this practice!
Healing is taking place here.

- CAB
Brenda has been a lifesaver since my car accident. She has helped me to be able to function on a daily basis. She helps to take away the pain so I do not have to take medication. I highly recommend her without reservation.

- AJS
I fully trust the knowledge that Mike has, his experience and intuition, and consider him a key partner for my health and wellbeing. He has shown me how expert, gentle therapy gets results; this and his genuine care means I know I am in the best hands and care possible.

- Sally R
Excellent physical therapy group. Holistic but practical experience, totally concentrated on the wellbeing and improvement of the patient.
Strongly positively recommend.

- Donald R
I have gone to Brenda for many years and her work and breadth of expertise is nothing short of incredible. She has given me so many tools to help prevent pain and maintain overall stability in my body and she has helped my body to achieve an all around balance that I have never had before. I greatly admire her and her work, and I know that every time I come in for an appointment, she always gives 100% in helping overcome my issues and helping me to leave the office better than when I came in.


- Madison E
Complete Physiotherapy has been very helpful for me! Brenda especially has been amazing. I came with a lot of nervy pain and her treatments have been such a blessing.

- EL
I enjoy the sessions and feel great with the help and improvement they provide.

- Nick L
I was referred to Complete Physiotherapy by my rheumatologist for my hip pain. Although my hip replacement was almost 10 years ago, scar tissue had built up causing pain. After a few months, I was less dependent on pain medication and my range of motion, flexibility and strength have all improved. I am also less dependent on my cane. I love the people here as well. They are very caring and helpful.

- Jovee K
Complete Physiotherapy worked hard to identify my issues. They developed a plan of action that enabled me to improve physically almost immediately. Their approach gave me hope that I was on the road to recovery which improved my entire lifestyle. I actually look forward to my sessions and appreciate the friendliness and professionalism of their entire staff.

- KG
Working with Complete Physiotherapy has significantly increased my mobility. In addition to more range of motion, my pelvic floor has strengthened. Alli and Mike are wonderful to work with and I highly recommend them for your PT needs.

- Katrina P